Join us for a fantastic weekend!
It's our honor to host GLOW FEST, a circus, arts & lifestyle gathering at the campground from the 11th to the 15th of August.
Last year's event was a tremendous success, and we think this year will be even better! Check out the event page for important information and to learn which of the 100's of workshops you will look forward to most!
GLOW FEST is here for everyone! We are proudly drug & alcohol free and super kid-friendly. Young or old, skilled or spectator and with ticket options to book a full weekender or a day pass. All you need is a desire to play!
We look forward to welcoming you! 
Thanks,
Kit + Anna + Richard + Aline + Waves Crew
---
---
---
---
We have made some changes to the way Waves operates to ensure we follow government guidelines. Besides increased cleaning and disinfecting, we are discouraging the use of the shared cooking facilities in our camp kitchen, need to limit our numbers inside the bathrooms and are preferring pre-bookings with payment in full by direct deposit.
We recommend all guests to bring their own cooking equipment, ample hand soap, sanitiser and perhaps (plastic) table cloths.
Camping has never been more popular  and we are grateful for the ongoing support of new & return guests. Due to the increased traffic it is taking us a little longer to respond to booking requests. There is now also a 2-night minimum for some weekend bookings (Fri-Sun). Please read the booking request guidelines before submitting.
Comfortable and low-cost camping in natural paradise!
Set in a unique and unspoiled bushland setting, Waves Campground creates the perfect holiday home for any traveller. With the untouched surroundings and abundance of wildlife you will truly experience the outdoors of Australia. The central bathroom block with hot showers will offer you all the comforts you need. At Waves campers enjoy pristine bush camping in a comfortable way. Tell me more...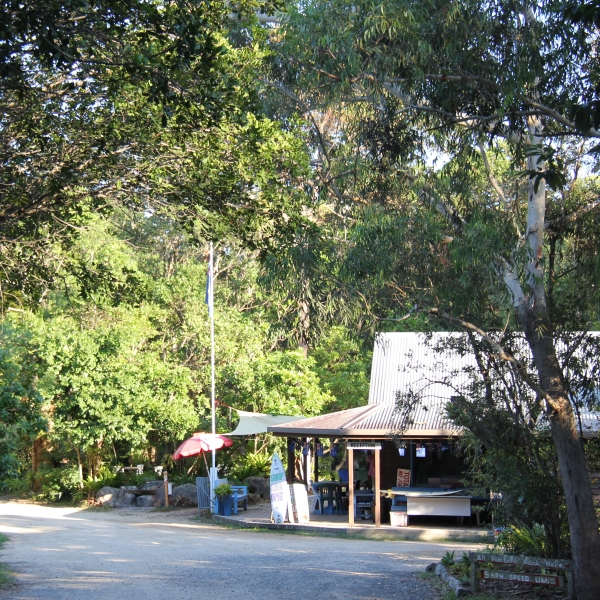 ---
Surfing, fishing, bushwalking, birdwatching and more...
When visiting Waves Campground there are loads of activities to enjoy and attractions to visit. We are lucky to have four point breaks within reach of the campground, great surfing every day! Delicate Nobby beach is just across the road and offers many great spots for fishing, swimming, snorkeling, scuba diving or for a relaxing day. Tell me more...
Family friendly, great for backpackers, individuals, couples & groups
Waves Campground can cater for all campers. We have a wide variety of campsites and a Bunkhouse. Many campsites are perfect for families, couples, backpackers, or campervan/ caravan travellers. Travelling with a large group? No problem, some of our sites are big enough to fit up to 80 people. Don't have any camping gear? Also no problem! You can book a night in our Bunkhouse dorms.Tell me more...
---
Fantastic Campground where you can unwind, surf, fish, walk and explore!
Campsites in amazing natural setting with direct beach access
---
---
Camp kitchen with free use of barbecues
Dorm Beds in Bunkhouse style accommodation
Epic Surf Fuel Cafe with amazing coffee & food
Waves Campground
Waves is a professionally managed, super friendly, down to earth campground that prides itself on customer service. We're blessed by the location and environment and pleased to give our guests great facilities at very affordable rates. Since September 2015 we have been operating under new ownership and management; the new owner is experienced in running a successful tourist accommodation in Port Macquarie. We highly value the regular positive reviews and great customer feedback we receive. To us, this is the greatest accomplishment. We can't wait to meet you, help you relax, enjoy, surf, fish, walk, breathe in the spectacular natural environment and smile (a lot).
---